Our Centre is now gradually Opening, Since the 6th June  we have had our Sunday Divines services every week at 11am , on the 26th June we had our AGM where our new Committee were elected . We aim to restart our Mediumship evenings on Mondays by the beginning of August.
Our newly appointed President Carole and Committee would like to thank our church members who came to our AGM ,we extend those thanks also to our South West District representatives, Minister Shirley Chubb and Tim Coombes DSNU, who kindly attended. It was so lovely to see Shirley sitting on our Rostrum again and still having her wonderful sense of humour after being so poorly. We are very grateful for all your support for our centre and new committee this year.
YOUR COMMITTEE ARE :
PRESIDENT – Carole Stapenhill.
Vice President – Caroline Sorenson
Treasurer – Godfrey – Dale Fforbes- Hamilton ( known as Dale )
Secretary – Anne Jenkins
Den Frorbes – Hamilton
Sue Cummings
Joy Beill
Sid Shuttleworth
Kat May
We thank our previous president Joan Boydell ,the  officers and committee for the service and commitment they have given over the years, and we aim to continue the good work welcoming new members and old into our centre.
Please be patient while we take on the reins and settle into our new roles. We welcome volunteers and will be updating you when we can on future meetings events, etc.
The online Tuesday Healing and Meditation Session will continue for as long as needed.
Distant Healing sessions in our Centre will commence as soon as things are in place and restrictions allow.
Since being elected the committee and volunteers have been busy, deep cleaning all  the centre and painting the Hall , getting ready to re-start our meetings again.
A BIG BIG THANK YOU to all the helping hands over the last 2 days we have all worked extremely hard to bring our church up and shining it feels and smells wonderful. THANK you guys couldn't have done it without you . More work still to be done cleaning the whole of the centre and painting our Hall etc.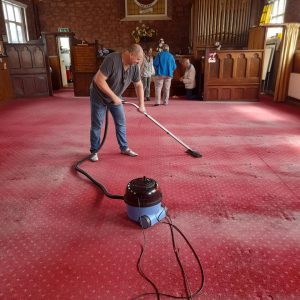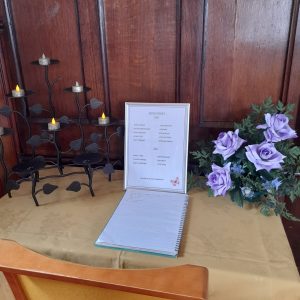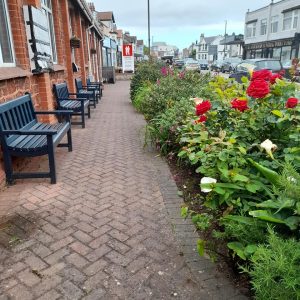 Our lovely stained window dedicated to past President Lilian Hirst , and designed by Mary Searle, depicting Lilians favorite Hymn "God of the Granite and the Rose"Wall Plaque dedicated to our founder member Mr Henry Rabbich and his wife Mary xxx